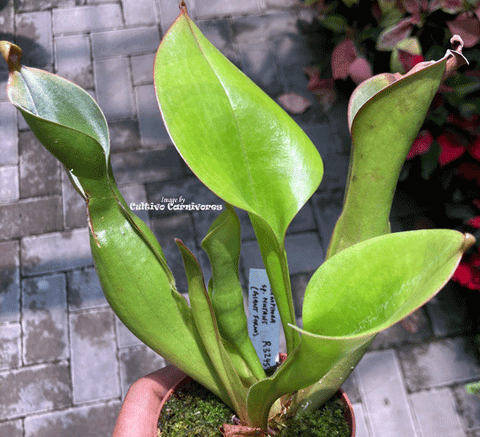 * Images supplied * © Wistuba
SPECIAL IMPORT 🌟 Heliamphora Nutans (Giant form) ex Wistuba 📏 Flowering size
On offer
Special import from Wistuba - exotic plants

Clone:  01

Growing conditions:  Intermediate / Highland
This is a specimen plant and you will receive the exact plant pictured
Seller description 
Easy, vigorous, and much bigger than typical H. nutans!is not really clear where these plants originate. They were grown in the Oxford Botanical Garden (UK) for decades but apparently nobody knows where the mother plants were collected

Nowadays, it is believed that Heliamphora nutans "Giant" is in fact a natural hybrid of H. glabra and H. nutans, and so, it is no surprise that the offspring does not come true from seed. In habitat, this hybrid is locally abundant and, in fact, it often outnumbers both parent species in areas where their population converge. So far, it has been found on Mt Roraima, Wei Assipu Tepui, and Maringma Tepui

The giant form on offer is the real thing! It shows exceptional vigor and large size. This is an excellent and beautiful beginner plant. Highly recommended!
---
Pssst... have you seen these?