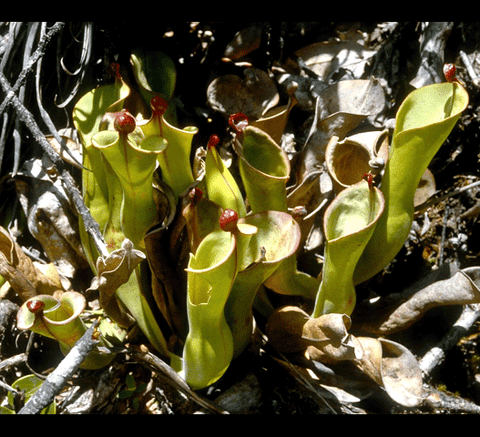 * Images supplied * © Wistuba
FREE shipping for orders over R2000
EARLY ACCESS > Heliamphora arenicola (Tramen Tepui) AW * 01 * 6-8cm Juvenile pitchers (bareroot)
Only available while stocks last
ℹ️
Learn more
about the difference between Fresh imports and Early access plants
On offer
Special import from Wistuba - exotic plants

Clone:  01

Growing conditions:  Highland
Seller description 
This close relative of Heliamphora elongata and nutans is quite fascinating in its unusual preference for sandy soils (hence the name: 

arena

-sand and 

cola

-dweller)

Found at elevations below 2000m on the western slopes of the Ilu Tramen Massif, this Heliamphora stands out with its chartreuse colored pitchers and bright red nectar spoons. The overall effect is vibrant against the surrounding vegetation of Stegolepis spp and low growing grass-like plants. Heliamphora arenicola appears most abundant in small, flat, open, sun-blasted clearings. In these exposed areas the plants can be quite numerous though they often appear stunted. Unlike the majority of Heliamphora which favor organic substrates, arenicola is found almost exclusively growing in pure white silica sand or soils with very high quartzitic sand content. Quite unusual! Because the species' range is not yet fully understood and a possible hybrid with ionasi has been collected on the western slope of neighboring Karaurin tepui, it is hypothesized that the plant might be present on top of that mountain

Heliamphora arenicola stays fairly compact both in nature and in cultivation, typically growing to about 18cm in height. It is similar to both elongata and nutans though its unique coloring, smaller spoon size, and habitat preference distinguish it from those species

A worthy addition to the Heliamphora collection!
* Offer valid while stocks last
---
Pssst... have you seen these?