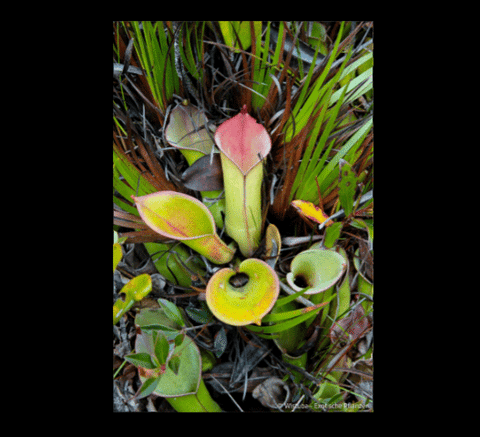 * Images supplied * © Wistuba
FREE shipping for orders over R2000
EARLY ACCESS > Heliamphora collina (Foothills Testigos) AW * Sel1-R * 8-10cm Some adult pitchers (bareroot)
Only available while stocks last
ℹ️
Learn more
about the difference between Fresh imports and Early access plants
On offer
Special import from Wistuba - exotic plants

Clone:  Sel1-R

Growing conditions:  Highland
Seller description 
Nicknamed "The Little Folliculata" this wonderful species is a great choice for people who like the overall look of folliculata but prefer plants that are more compact

Growing at the foothills of the Lost Testigos Massif, neighboring hills and lower tepuis, and possibly at the base of Ptari Tepui, collina is fairly wide spread at elevations of 1700-1825m. The name refers to the species preference for colline (or hilly) habitat where it grows in wet substrate and favors seepage sites among low growing but dense vegetation. Sometimes the plant can be completely covered in moss or leaf litter with only the wide circular pitcher opening visible. The pitchers are a pale yellow green and look similar to folliculata though they are smaller, less cylindrical, and produce a nectar spoon that does not form a chamber. Drainage hole is present at the mid-section

In habitat collina pitchers can be up to 25cm in length, but in cultivations the plants remain smaller, typically up to 15-18cm at the most. They clump easily producing attractive rosettes which are more upright than folliculata

This easy, compact, and forgiving species should be in every collection. Recommended for beginners!
* Offer valid while stocks last
---
Pssst... have you seen these?