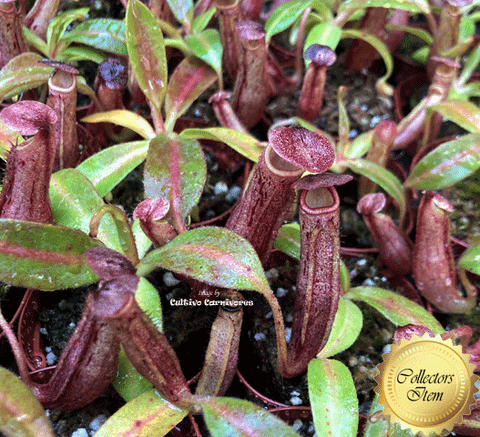 SPECIAL IMPORT: Nepenthes Samsara ex Diflora 🌱 30 plants
R5,040.00

30 % OFF 🔥You save

R2,160.00

on this HOT DEAL!
available online only
courier or collect >>> FREE SHIPPING over R2000
Estimated delivery between 20/11 and 29/11
---
---
---
ON OFFER

Nepenthes Samsara is an easy to grow complex hybrid produced by Diflora in Italy
Vigorous and very colourful these are perhaps the perfect size for a terrarium and will also do well on a north-facing windowsill with a couple hours morning sun - Great for beginners!
On offer is 30 plants, 7-10cm in leafspan with fully functional cups around 2-5cm.  Images of larger plants are also supplied so you know what to expect from these beauties in the next couple of months
Plants are fully acclimatised and are sold bare root, ready to pot up for bushier growth, resell or planted in your carnivorous plant bog or mounted in a terrarium
Wholesale discount (-30%)
Buy 30 @ R168 each

Recommended Retail @ R240 each
Shipping
Local shipping on this offer is free (custom rates apply for international orders)
STILL IN NEED OF CARNIVOROUS PLANT SOIL?
---
Pssst... have you seen these?
Epic
Awesome plants which are super healthy and happy. Thank you yet again for the epic service, plants and simply for doing what you do. I went onto your site with a set goal but you caught me with the specials and it was worth it.