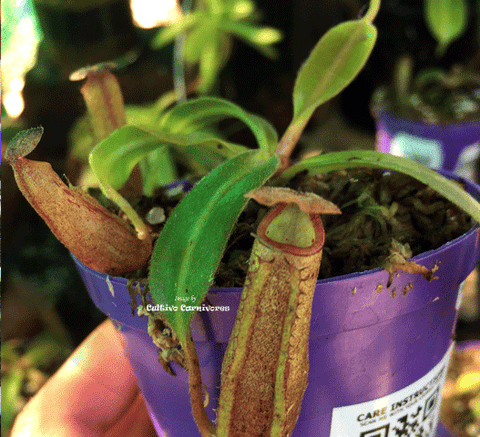 ⛱️ SUMMER BASH SALE ☀️ 5 x Nepenthes Samsara ex Diflora
available online only
courier or collect >>> FREE SHIPPING over R2000
Estimated delivery between 20/11 and 29/11
---
---
---
ON OFFER

5 x Nepenthes Samsara * Leafspan 8-10cm
CULTIVO EXCLUSIVE 💎 An easy to grow, complex hybrid produced by Diflora in Italy.  Adapts easily to a wide range of South African conditions.  Produces relatively broad leaves with long, spotty pitchers and a reddish, brown peristome
Plants are sold bare root, ready to pot up for bushier growth or mounted on wood for a terrarium / paludarium
Due to its parentage, Nepenthes Samsara grows well in intermediate conditions - semi-shade outdoors -shaded by a tree or indoors on a north facing windowsill with a couple hours morning sun.  These are perhaps the perfect size to be mounted on wood in a terrarium and grown under artificial lighting until it outgrows the space provided.  Great for beginners!
STILL IN NEED OF CARNIVOROUS PLANT SOIL?
---
Pssst... have you seen these?