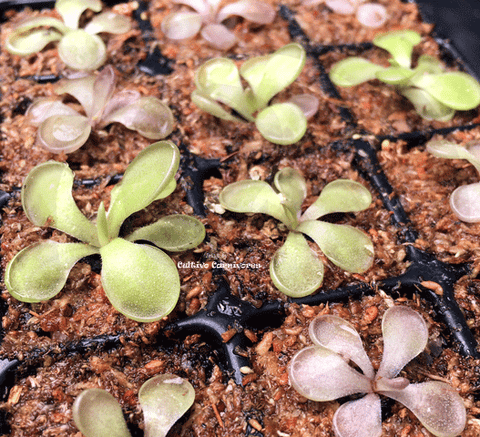 ⛱️ SUMMER BASH SALE ☀️ 5 x Pinguicula Hemiepiphytica x Cyclosecta ex BCP
R1,353.75

5 % OFF 🔥You save

R71.25

on this HOT DEAL!
available online only
courier or collect >>> FREE SHIPPING over R2000
Estimated delivery between 20/11 and 29/11
---
---
---
ON OFFER

5 x Pinguicula Hemiepiphytica x Cyclosecta ex BCP
[BCP ID# P1562]
CULTIVO EXCLUSIVE 💎 An easy to grow, mexican butterwort with wonderful parents and round, purple leaves if grown in very bright light.  Mature plants can easily reach 10-12cm - produces large, pink flowers
Plants are sold bareroot, ready to pot up for bushier growth or planted in your carnivorous plant bog or mounted in a terrarium / paludarium
Mexican butterworts grow best in a protected (frost free) area outdoors in semi-shade or a indoors on a sunny (north-facing) windowsill.  Keep the soil on the drier side or mount on rocks or wood for a cool ping project.  Growing these under full spectrum LEDs will bring out the best colour in them.  Plants can be left to flower as it does not drain as much energy in comparison to most of the other carnivorous plant species
STILL IN NEED OF CARNIVOROUS PLANT SOIL?
---
Pssst... have you seen these?
Happy Plants!
Simply love the plants I get every time! That's why I come back for more 😁