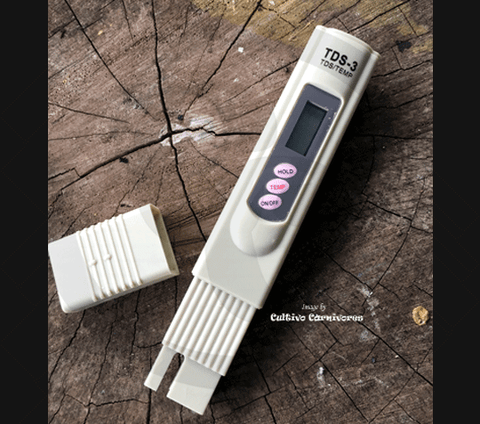 WATER QUALITY TESTER: Digital TDS / PPM meter
available online only
courier or collect >>> FREE SHIPPING over R2000
Estimated delivery between 20/11 and 29/11
---
---
---
a TD...what????
a TDS/PPM Digital Water Meter enables you to test the quality of various kinds of water.  We often get queries like this:  Is my tap water safe to use for my carnivorous plants? We have a borehole (lucky fish!!), will this be ok?
As water quality differ in various parts of the country (and world), a TDS water meter is the answer to your question.  This is a simple device that can be used to test any type of water.  Fill a clean glass with the water and follow the instructions in the leaflet.  The device will display a numeric value in PPM (parts per million)
Carnivorous plants need clean water (free of minerals) to thrive. Whilst some species are more sensitive than others we generally recommend a TDS (total dissolved solids) reading of lower than 50ppm, whilst tapwater with a TDS of lower than 90ppm is still relatively safe. If the TDS value is higher than 90 we recommend watering your plants with distilled-, reverse osmosis-, or clean rain water instead.  Plants watered with water greater than 50ppm will need to be repotted yearly to eliminate mineral buildup in the soil 
Uses:
This meter provides 1000 hours of continuous usage which we will certainly not need. Top quality water has many uses, and is recommended for drinking water, water filters, hydroponics, aquariums, food, coffee, pools, spa's and of course the water you will need for keeping your favourite carnies hydrated
Product description and additional features:

TDS range: 0-9990ppm /mg / L
Resolution: 1ppm(0-999ppm), 10ppm(1000-9990ppm)
Data hold
Auto temperature compensation
Calibration: Factory Calibration
Accuracy: +/- 2% full scale
Dimensions: 142 x 25 x 15 mm
Battery: 2 x 1.5v button cell batteries
Color: Beige
Weight: 35g
This device will need 2 x 1.5V LR44 button cell batteries to operate (We will throw these in for you at no additional cost)
View the user manual leaflet here
---
Pssst... have you seen these?