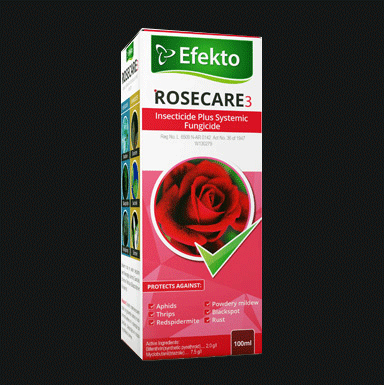 PEST CONTROL: Efekto Rosecare 3 (Insecticide / Fungicide)
available online only
courier or collect >>> FREE SHIPPING over R2000
Estimated delivery between 20/11 and 29/11
---
---
---
Efekto Rosecare 3
Active Ingredients:
Bifenthrin(synthetic pyrethroid) 2.0 g/l / Myclobutanil(triazole) 7.5 g/l (CAUTION / VERSIGTIG)
Rosecare 3 is a contact insecticide plus a systemic fungicide formulated as a micro emulsion for the control of insects and fungus diseases as indicated on roses and other ornamentals
Features:
Controls the most common carnivorous plant pests & diseases including aphids, red spider mite, thrips, black spot, rust and powdery mildew 
Highly effective combination of a low toxic synthetic pyrethoid insecticide and a systemic broad spectrum fungicide
Have been tested (at 5ml/

ℓ)

 and proven to be effective in the treatment of aphids on dionaea (venus flytraps), thrips on sarracenia (american trumpet pitchers) as well as powdery mildew on cephalotus 
Size:
This product is sold in the original packaging
ROSECARE 3 Act No. 36 of 1947: Reg. No.  L 6509 / N-AR 0142
---
Pssst... have you seen these?