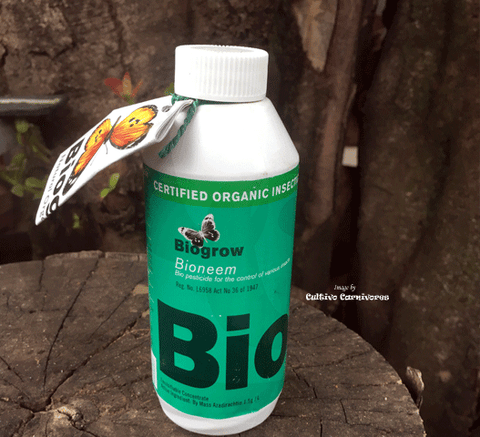 PEST CONTROL: Bioneem - Neem Oil (Organic Insecticide)
available online only
courier or collect >>> FREE SHIPPING over R2000
Estimated delivery between 20/11 and 29/11
---
---
---
Biogrow Bioneem
Active Ingredients:
Azadirachtin 1.5g/l 
Bioneem is an organic emulsifiable concentrate used as an insecticide to control various insects including mites, aphids, fruit flies, american bollworms, snout beetles and coddling moths.  Neem oil is a natural oil extracted from the neem tree and the active ingredient acts not only as an insect repellent and anti-feedant but also a growth regulator.  Suitable for indoor and outdoor use
Features:
Safe to use on most of the common carnivorous plant species 
Highly effective organic insecticide and great for control and preventative measure of aphids and mites
Have been tested (at 10l/

ℓ)

 and proven to be effective in the treatment of aphids on dionaea (venus flytraps), drosera (sundews), sarracenia (american- and purple pitchers) as well as mites on nepenthes (tropical pitcher plants 
Sizes:
This product is sold in the original packaging
---
Pssst... have you seen these?