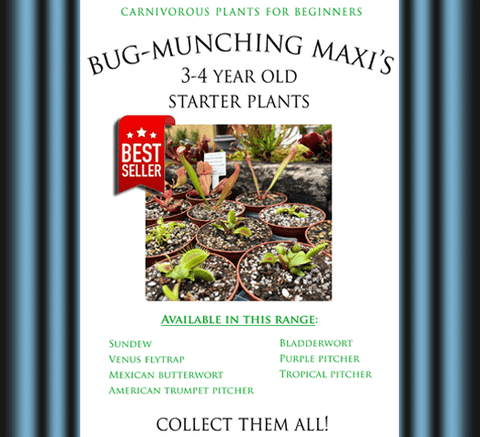 3-plant COMBO: INDOORS 💎 CARNIVOROUS PLANTS FOR BEGINNERS
available online only
courier or collect >>> FREE SHIPPING over R2000
Estimated delivery between 20/11 and 29/11
---
---
---
Carnivorous plants for beginners
Bug-munching MAXI's 💎 Cultivo Exclusive
Jumpstart your carnivorous plant journey with 3 easy to grow starter plants for your INDOORS plant collection
Included are:

3 easy to grow tropical / subtropical carnivorous plants suitable for year round indoor growing
These plants will do well on a north-facing windowsill with a couple hours morning sun.  Water every other day and keep the soil moist at all times - using distilled water
You will receive a:

Sundew (cape sundew)
Tropical pitcher plant (mixed variety), and a 
*Bladderwort (mixed variety) or *Butterwort (mixed variety) ~ depending on what we have available at the time
Starter plants in our 'for beginners' range are around 3-4 years old and will be sent already potted (7.5cm) in our deluxe carnivorous plant soil - ready to grow.  Simply unwrap, water and enjoy!
* Also available individually *
🚚 
NATIONWIDE DELIVERY OPTIONS: 

 

Customer collect, courier and Postnet2Postnet options available at checkout
 Standard T&Cs apply * Prices may vary across retail outlets
---
Pssst... have you seen these?