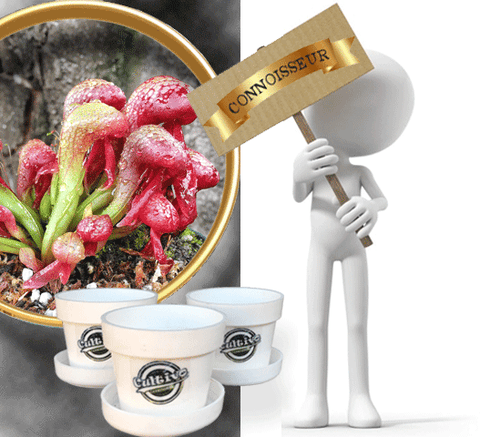 BUG-MUNCHING MINI's for Connoisseurs * COBRA LILIES with ID (Cultivo Exclusive)
available online only
courier or collect >>> FREE SHIPPING over R2000
Estimated delivery between 20/11 and 29/11
---
---
---
They're cute...They're adorable...They're irresistible...They're collectable....
now with ID's...cultivar names...location data...the works!
The long wait is over!
In light of the popularity of our first Bug-munching mini range (

singles by species

) we are finally ready to launch the long anticipated second phase.  As promised, we will be rolling out the Bug-munching MINI's for connoisseurs range over the next couple of weeks....ID's...cultivars...location data...the works!
The boutique mystique 
As always, carni connoisseurs and collectors are at the heart of Cultivo.  We aim to offer you species, varieties and cultivars not available in this Cultivo exclusive form, anywhere else, therefor it is worth noting that many plants in the connoisseur range may be limited to only a handful items each - First come, first serve...available only while current stocks last!

Due to the diversity on offer, it will be impossible for us to provide specific instructions for every single species and variety available in this range

.  Some plants may need special conditions and doing some research prior to ordering will be in your favour.  Plants are around 1-3cm, potted in small 2cm pots and labeled accordingly
Sarracenia KEY: SG = Seed grown
---
Pssst... have you seen these?