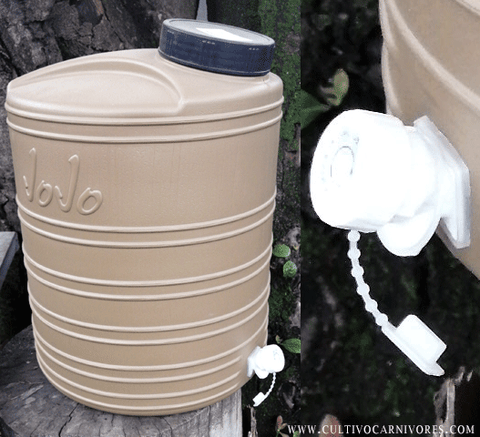 GROWING SUPPLIES: Mini JOJO Tank
R256.00

20 % OFF 🔥You save

R64.00

on this HOT DEAL!
available online only
courier or collect >>> FREE SHIPPING over R2000
Estimated delivery between 20/11 and 29/11
---
---
---
It's raining...it's pouring! Running out of tupperware containers?
South Africa is a water scarce country, and we have the perfect solution to stock up on (FREE) rainwater for the drier seasons. Top quality Mini JOJO tanks are now back in stock

Size: 20

ℓ

Product Dimensions:  30

cm (L) x 30cm (W) x 40cm (H)

Main uses:  Rainwater harvesting and storage, beverage dispenser...juice for those hot summer days...wine...grrrr
All carnivorous plants should be grown using pure, low mineral water. If you do have hard tap water, it is best to use collected rain water, distilled water, reverse osmosis water, or de-ionized water
Water vendors are starting to pop up in various suburbs across South Africa and when rainwater is scarce these vendors are a good inexpensive source for pure water for your carnivorous friend  
Distilled- and Reverse osmosis water are often sold at most pharmacies, Dischem, Builders Warehouse and the pharmacy section of large retail stores such as Checkers Hyper and Pick n Pay
Note that still and sparkling drinking water sold in the cooldrink section at retail stores are not suitable for carnivorous plants.  Bottled water sold under the bottling brands aQuellé, Valpré, H20 to go, Bonaqua and others often have added minerals and is not a suitable replacement for distilled or RO water
Always read the label.  Distilled water sold as 'battery water' may contain sulphuric acid and will kill your plant.  Reverse osmosis water typically have a TDS value <20 PPM
In all cases, a total dissolved solids (TDS) measurement below 100 parts per million (PPM) is recommended for cultivating carnivorous plants
General notes on The Reverse Osmosis system - What is reverse osmosis water?
Reverse osmosis, is the process of osmosis backwards. Osmosis is the passage of water through a protein membrane (like our skin, or the inside of a plant cell) to equalize the concentration of particles dissolved in the water. The protein membrane allows water to pass through, but molecules larger than water (things like minerals, salts, and bacteria) cannot. Water flows back and forth until the concentration is equal on both sides of the membrane, and an equilibrium is formed.
Let's apply this knowledge to water purification. We want to drink water from a lake or stream, but it contains contaminants like salt, minerals, and bacteria, that make it undrinkable. By applying pressure to water as it passes through a membrane, the water can be forced to move away from the membrane rather than attempting to form an equilibrium like normal. This motion is where the "reverse" comes from. Water is forced through the membrane which blocks an extreme majority of contaminants from coming through.
In water treatment, reverse osmosis can usually remove between 96 and 99% of most contaminants, including salts and minerals, dyes, particles, bacteria, and hazardous metals
General notes on quenching your carnivorous plant's thirst
Most carnivorous plants may be watered using the tray method
Simply put your potted plants into a shallow tray and fill it with 1cm pure water
This is really the best and easiest way to make sure your plants don't ever dry out
Exceptions are Nepenthes, Cephalotus, mexican butterworts and Drosophyllum - these plants are prone to root rot if kept standing in water for extended periods of time, thus their watering preferences are slightly different in the sense that they need soil only moist to the touch with good drainage, without letting the soil dry out completely
---
Pssst... have you seen these?
Mini Jo Jo
Enjoying having stored water for my Carnivores. Very convenient little Jo Jo.
Rain water
Super cute little JoJo, great quality and going to be very useful to collect rain water for my carnivorous friends