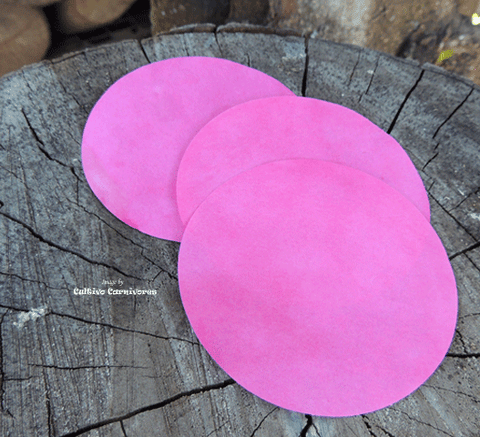 GROWING SUPPLIES: Smoke Primer Discs * Smoke Paper Discs * Seed Primer
available online only
courier or collect >>> FREE SHIPPING over R2000
Estimated delivery between 20/11 and 29/11
---
---
---
Primer discs and smoke treatment
In their natural habitat, many rare and difficult to germinate seeds only germinate after bushfires as the heat and the toxins in the smoke help to break down the protective seed coat
As South Africans, we all love a lekker braai....but if you're like me a skaap tjoppie or three will do. To smoke seeds yourself you would need to burn dried brush plant material in a small, enclosed area such as a polyethylene tent. However, not every botanist, horticulturist, carni fan or home gardener has a smoke tent, nor is it always possible or desirable to light an open fire to get smoke or go through the hassle
Fortunately there are far easier ways nowadays to accomplish the same, and often better, results. Smoke primer discs is a general purpose germination stimulant. It's very easy to use - simply dunk the smoke paper disc in a glass with some water and soak the seeds for 24 hours or longer (

we even have a very quick instruction leaflet here

). Each disc is made of absorbent paper, impregnated with fynbos-smoke-saturated water and then dried for our use
One disc will be good for roughly 100 seeds. It can also be cut into smaller pieces for use on smaller seed quantities and the remaining pieces stored in the fridge for later use
Recommended for 

All difficult to germinate seeds, particularly Australian, New Zealand and some South African drosera species
We use it to speed up germination in all byblis seeds with the exception of byblis liniflora, tuberous drosera and difficult to germinate winter-growing South African sundews such as cistiflora, pauciflora, hilaris and others.  These are also great for non-carnivorous seeds such as stylidium, proteas, palms, cycads and more
---
Pssst... have you seen these?
growing supplies
I have not tried the product as yet but thanks for the attached info. It was very helpful
Johann Gresse
GROWING SUPPLIES: Smoke Primer Discs * Smoke Paper Discs * Seed Primer
Great service
The service was great. Quick response
Seed primer discs
Good day, I would like to know is these primer discs come in different sizes (in diameter), I would like to know the size range, from the smallest.
I would appreciate your help on this matter.
Hi Alicia, Thank you for the interest. They come in one size only (9cm in diameter). Each will be good for up to 100 seeds. Should you want to be 'smoke-disc wise' I'd suggest cutting them in half for 50 seeds, and store the other half in the fridge for later use. Should you have different types of seeds for eg 10 of each - create folded envelopes with coffee filter paper, add each variety to their own envelope, label them and secure with paperclips, that way you can soak multiple varieties at the same time. Happy Growing!