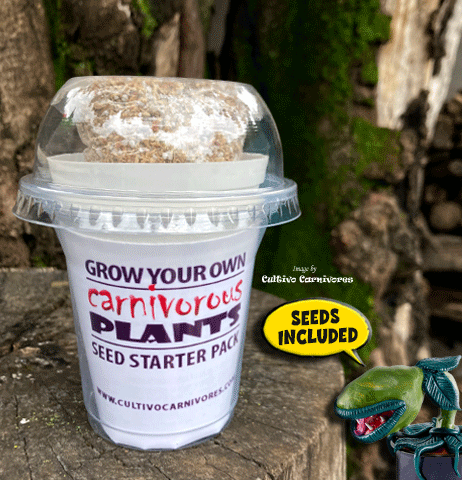 GROW-YOUR-OWN TRUMPET PITCHER PLANTS ~ 𝘛𝘩𝘦 𝘤𝘰𝘮𝘱𝘭𝘦𝘵𝘦 𝘴𝘦𝘦𝘥 𝘴𝘵𝘢𝘳𝘵𝘦𝘳 𝘱𝘢𝘤𝘬
available online only
courier or collect >>> FREE SHIPPING over R2000
Estimated delivery between 20/11 and 29/11
---
---
---
Ready for a challenge?
Grab your adventure boots and try your hand at growing your very own trumpet pitcher plants from seed with
Cultivo's COMPLETE grow-your-own SEED STARTER PACKS
We are proud to present another member in our range of COMPLETE SEED STARTER PACKS for carnivorous plants
A fantastic gift idea and perfect for beginners, this tailored starter pack includes

everything

you'll need to grow your very own trumpet pitcher plants from seed - Just add water!
It is important to note that growing carnivorous plants from seed is aimed at the adventure grower and a lot of patience is required.  Trumpet pitcher plant seeds will need a cold-stratification period of 4-8 weeks upon sowing and germination may only occur 1-2 months afterwards.  Raising this species from seed is so rewarding but due to their need for dormancy it may take many years to raise them from seed to maturity (flowering size)
This seed starter kit includes:

a complete growing container,
premixed germination soil for your new seeds and
a full instruction leaflet

PLUS

1 seed-packet containing a minimum of 10 trumpet pitcher plant seeds, harvested within the last growing season
The seed will be a random selection /  mixed variety of trumpet pitcher plants depending on what we have available
Having fun?
We have a variety of kits available in our GROW-YOUR-OWN range
---
Pssst... have you seen these?
Grow your own pitcher plants - The complete seed starter pack
Awesome shopping experience. They let you know step for step what is happening with your order, plus the convenience of collecting at the Strawberry Pot
Excellent! Brilliant!
Awesome service thank you!
Can't wait to start my growing im very excited about it 💯
Very good
I had a great experience. Thanks