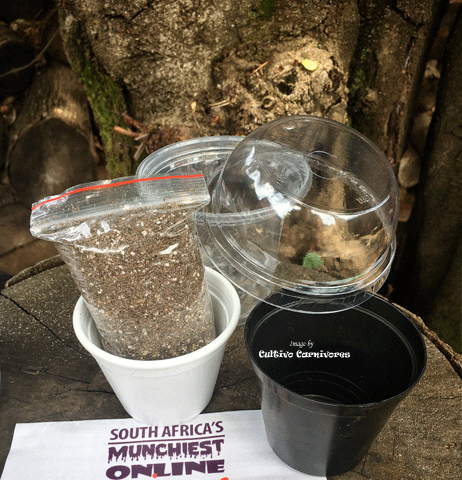 GROWING SUPPLIES: Cultivo's GERMINATION kit ~ 𝘛𝘩𝘦 𝘣𝘢𝘴𝘪𝘤 𝘴𝘦𝘦𝘥 𝘴𝘵𝘢𝘳𝘵𝘦𝘳 𝘱𝘢𝘤𝘬 (𝘕𝘰 𝘴𝘦𝘦𝘥𝘴)
available online only
courier or collect >>> FREE SHIPPING over R2000
Estimated delivery between 20/11 and 29/11
---
---
---
Have your own seeds but don't know where to start? Why not order one of our BASIC seed germination kits to get you started
We love challenges and have developed a tried and tested method to improve our (and now your!) chances of successful seed germination.  Over the years, we have had great success with this product and all seed orders are now available with a corresponding germination kit 
This tailored starter pack includes all the growing material you will need to grow your very own carnivorous plants - Just add your

own

seed and water! 
The BASIC seed germination kit includes:

a complete growing container, 

species-specific premixed germination media, and

a full instruction leaflet
The BASIC germination kit is sold as a unit and components are not available separately
Note that the basic germination kit

does not contain any seeds
Did you know that we have an extensive range of fresh carnivorous plant seeds available? 
CLICK HERE to view our complete seed catalogue or check out our COMPLETE seed starter pack for a mixed variety seeds on each species  
---
Pssst... have you seen these?
VFT seeds and starter pack
This is the second time I've bought the seed starter pack as well as a few seeds. The starter pack is great and makes it really easy to get going! They definitely work and I've had a good germination rate, even when starting under lights in the cooler winter months. Great product that makes it easy to get your little seeds going!
Thanks
Was my 1st time ordering from you and would definitely not be the last time. Was super excited to receive my package and already using some of the soil.
Thanks for great service
Cultivo's GERMINATION kit (BASIC seed starter pack)
Growing during lockdown
As always, super pleased with your shop. Couldn't contain myself and immediately started with the process. Thanks again for great service and quality products and thanks for the gift
GROW your own: The BASIC seed kit (Seed starter pack)