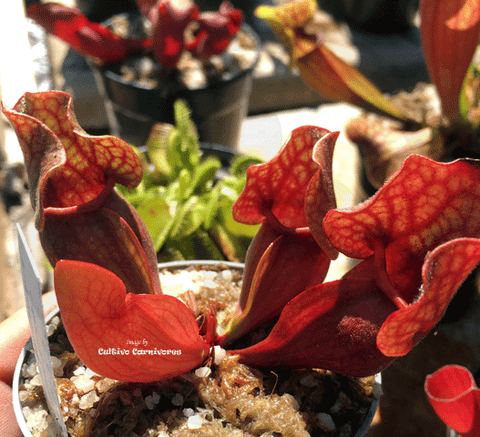 ⛱️ SUMMER BASH SALE ☀️ 5 x Sarracenia Purpurea ssp venosa Seedgrown (M/L)
R1,330.00

5 % OFF 🔥You save

R70.00

on this HOT DEAL!
available online only
courier or collect >>> FREE SHIPPING over R2000
Estimated delivery between 20/11 and 29/11
---
---
---
ON OFFER

5 x Sarracenia Purpurea ssp venosa - seedgrown
CULTIVO EXCLUSIVE 💎 

Sarracenia Purpurea ssp venosa is an easy to grow, compact plant with squat pitchers and ruffled lids.  Grow this one outdoors in full sun for the best colour

These are medium to large plants, sold bare root, ready to pot up for bushier growth or planted in your carnivorous plant bog
Purple pitcher plants are summer growing and are dormant during the winter months.  Cut back at the end of winter - new growth will sprout during springtime
STILL IN NEED OF CARNIVOROUS PLANT SOIL?
---
Pssst... have you seen these?